Learning Alliance programs are Veterans Affairs approved and allow you to utilize your GI Bill to fund them. Accessing your GI Bill benefits can be a difficult process depending on if you have used them before or not. We have School Certifying Officials that can guide you through the process by calling 813-261-6018 ext. 703.
In this guide, we will go through the current 2020 application process for filling out your VA form 1990 or 1995.
The Differences Between a 1990 and 1995
The difference between the two different forms is defined below:
1990: This is the form you utilize to activate your GI Bill. If you have used your GI Bill at another educational institution then you will not need to fill in a 1990.
1995: This is the form you utilize to transfer between educational institutions if your GI Bill has already been set up. If you have enrolled in a college or university or other trade school, then this is the form you will want to fill out.
Pertinent Learning Alliance Information You May Need
School, university, program or training facility you want to attend?
Learning Alliance
Name of Training?
Broadband Digital Installer (Your elective may be in Tower Technician or Fiber Opitcs)
Type of education or training?
College, University or other educational program
Are you getting, or do you expect to get any money (including, but not limited to, federal tuition assistance) from the Armed Forces or public health services for any part of your coursework or training?
No
What is Learning Alliance's address?
5910 Breckenridge Pkwy, Suite B, Tampa FL. 33610
Go here: https://www.va.gov/education/apply-for-education-benefits/application/1990/introduction – Click "Sign In to Start Your Application"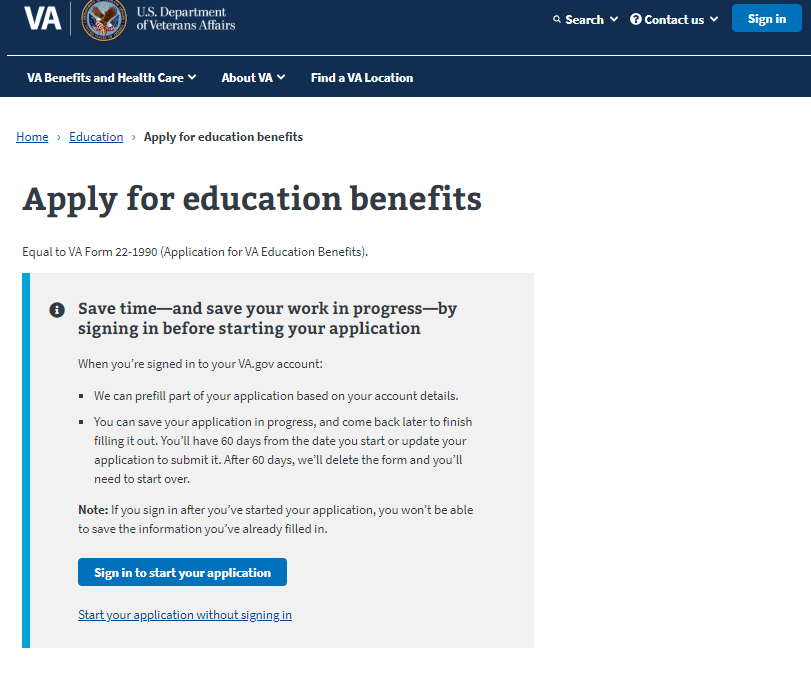 Sign in to ID.me with your credentials. If you do not have an account, click the create an account with ID.me option.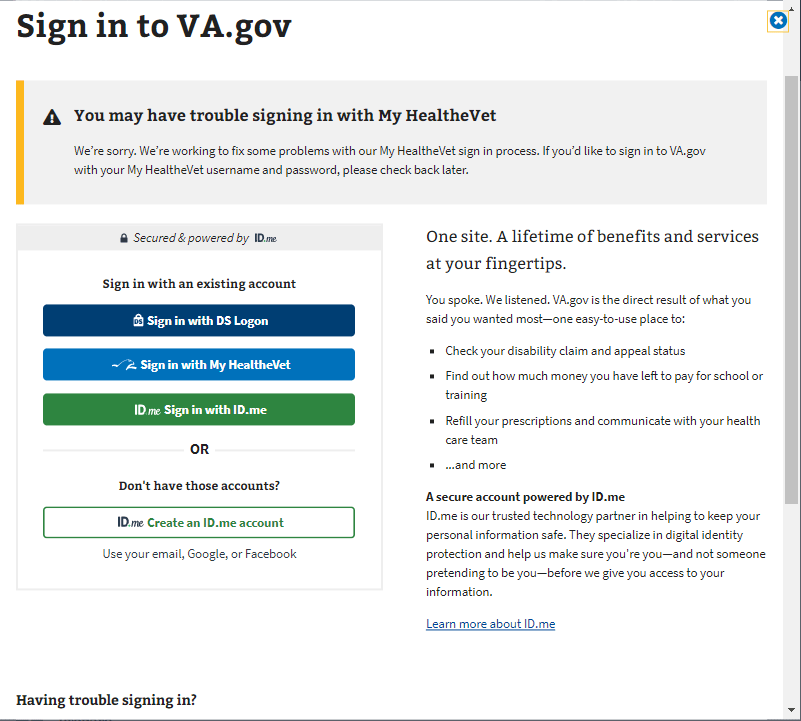 Click on "Start the Education Application"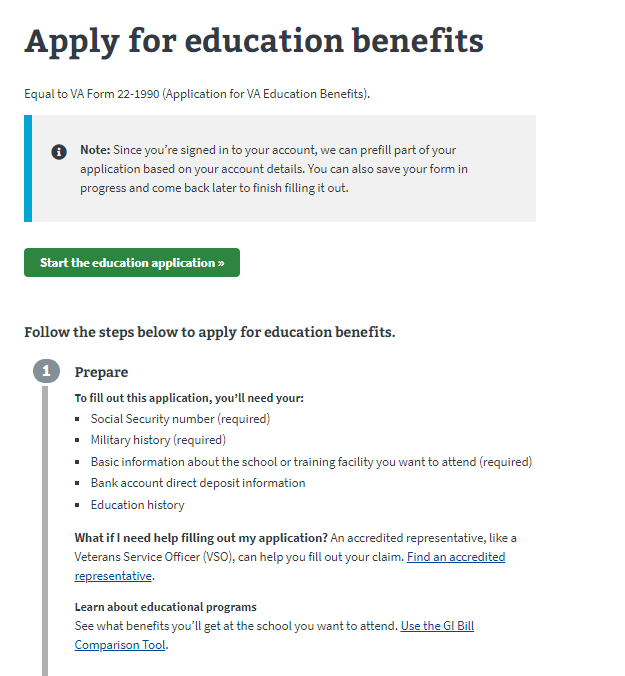 Fill in your application with your personal info.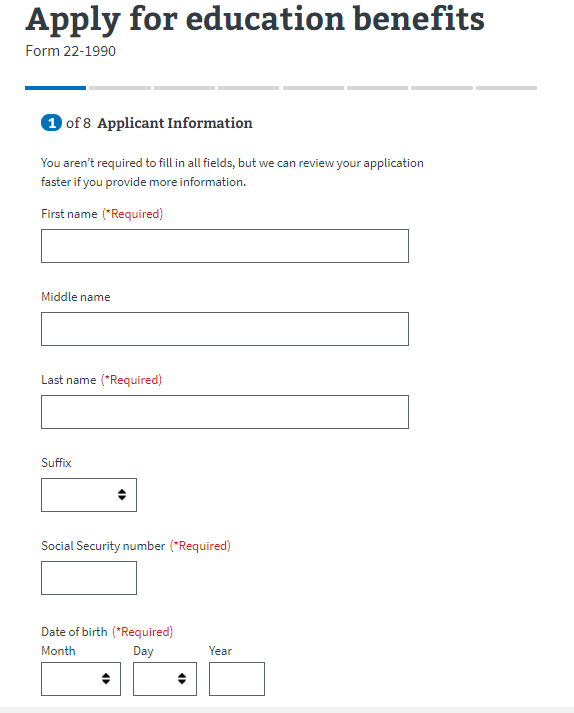 Our program specifically uses Chapter 33 (Post/911). If you have other benefits, please transfer your current benefits to Chapter 33.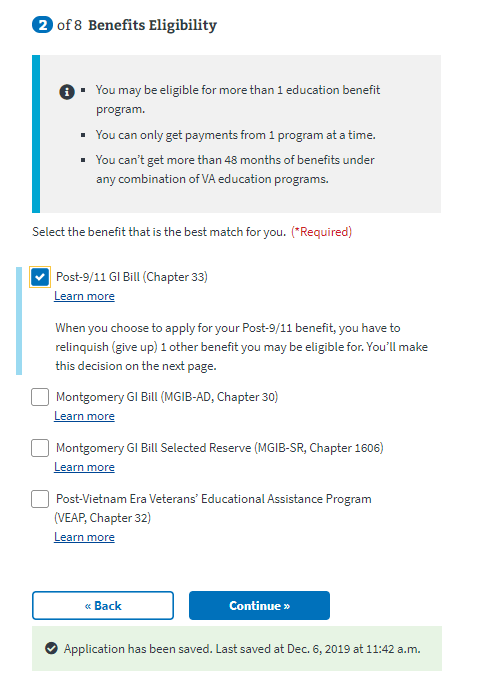 Verify that you do not have other benefits then proceed with the below questions.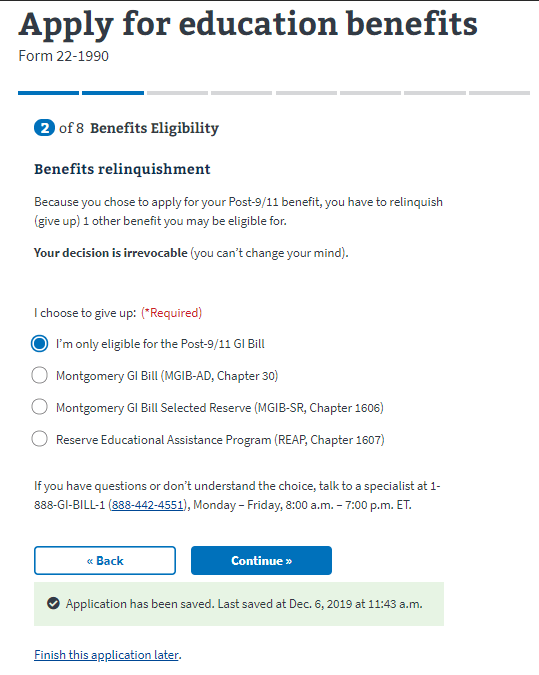 Fill out your military history: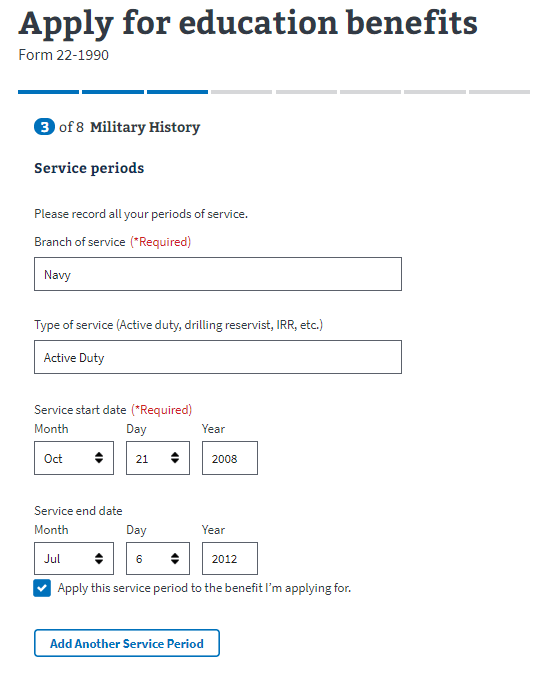 If you do not make any contributions, leave blank. If you do not know specifically, you probably do not have any contributions.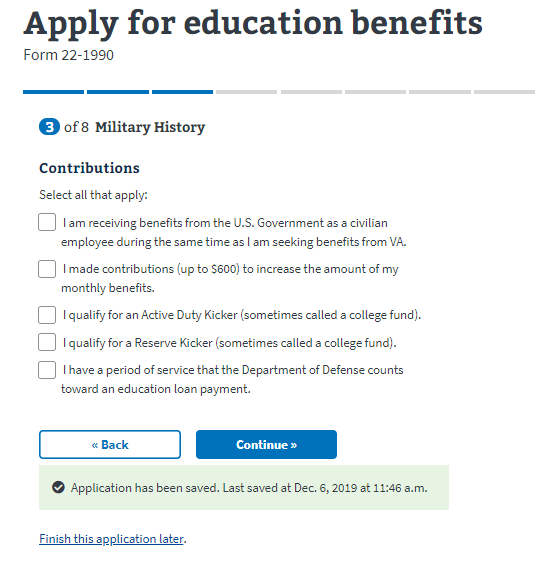 Add in your education history: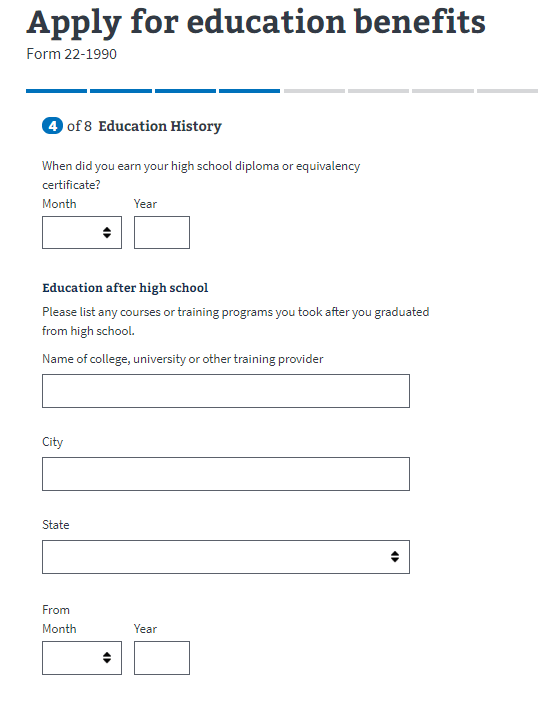 Fill out Learning Alliance information: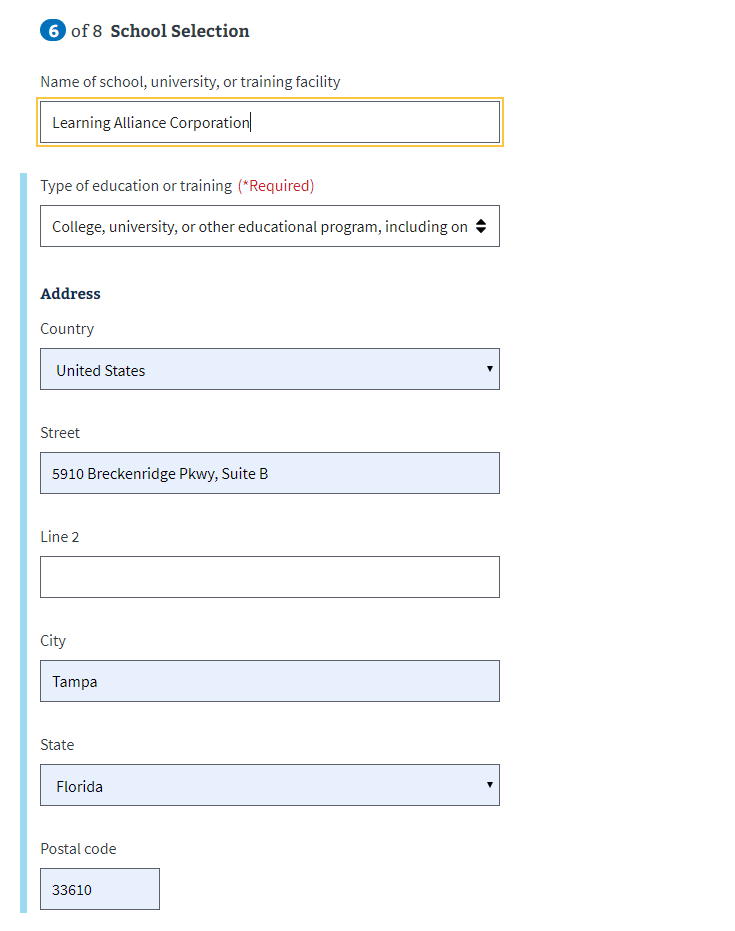 Learning Alliance Information Continued: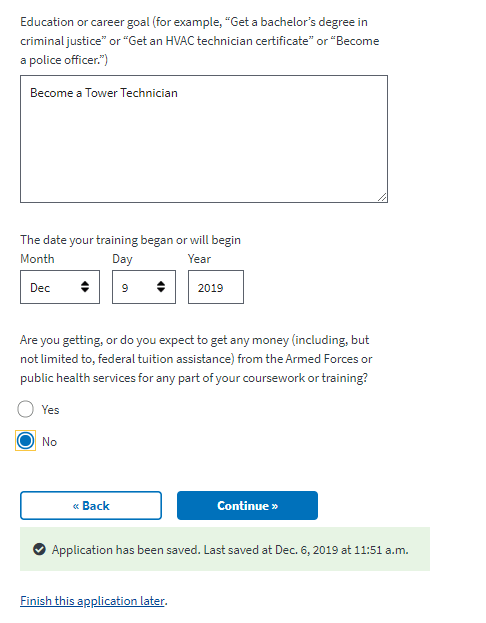 Fill out more personal information: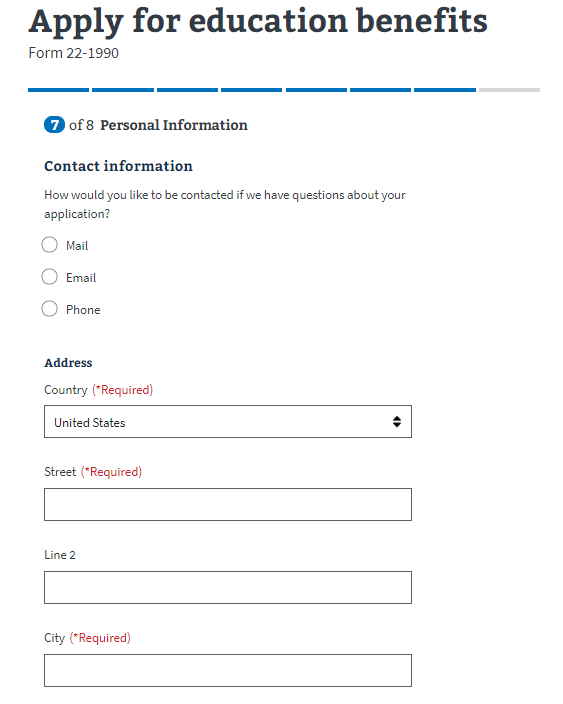 Submit the form! It will take 30 days to process and you should receive a certificate of eligibility in the mail.
Navigate to this URL: https://www.va.gov/education/apply-for-education-benefits/application/1995. Sign in or create an ID.me account. Once logged in, click, "Start New Application." Input applicant information: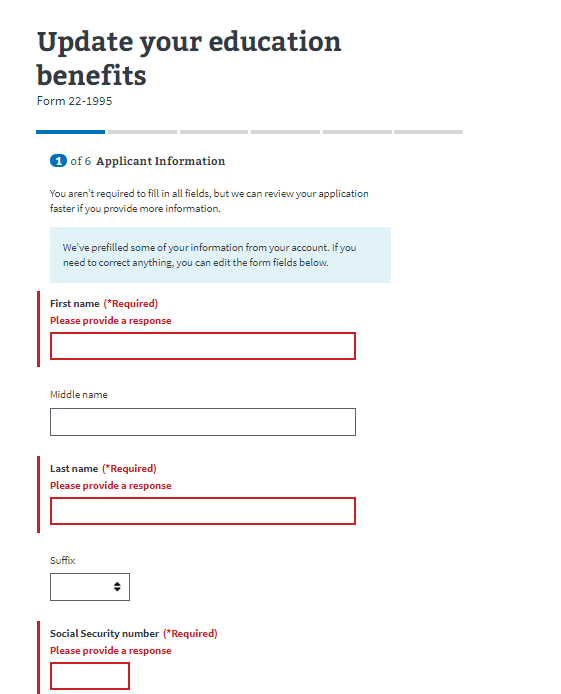 Choose Chapter 33- GI Bill. If you have another benefit, you will need to transfer it to Chapter 33.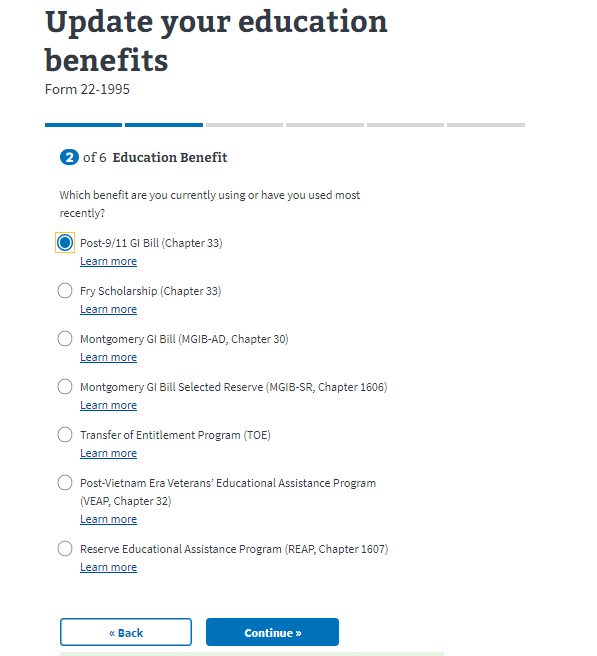 We do not accept the STEM funds, so please put no.
Fill out your military history: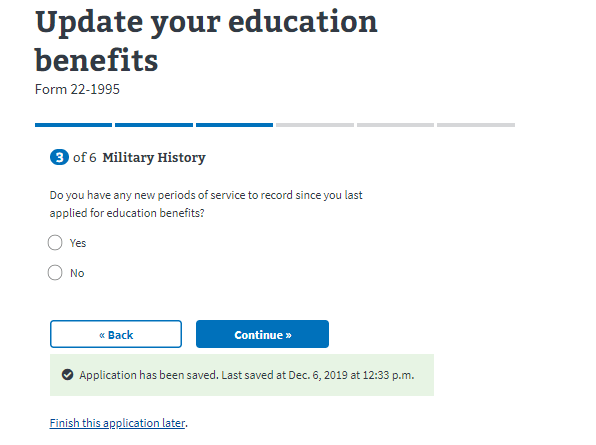 Fill out Learning Alliance specific information: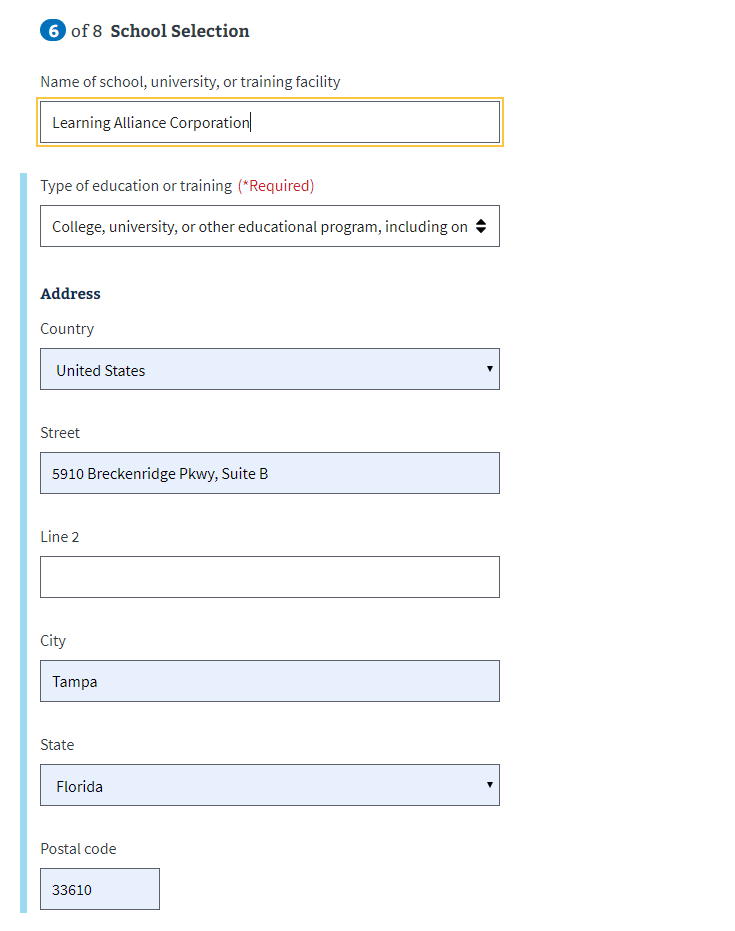 Continued: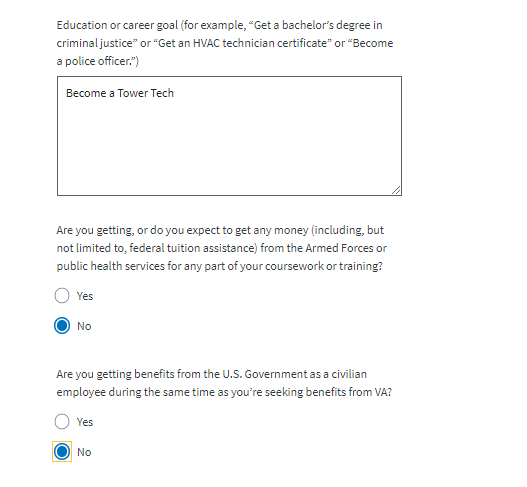 Input your personal information and submit your application!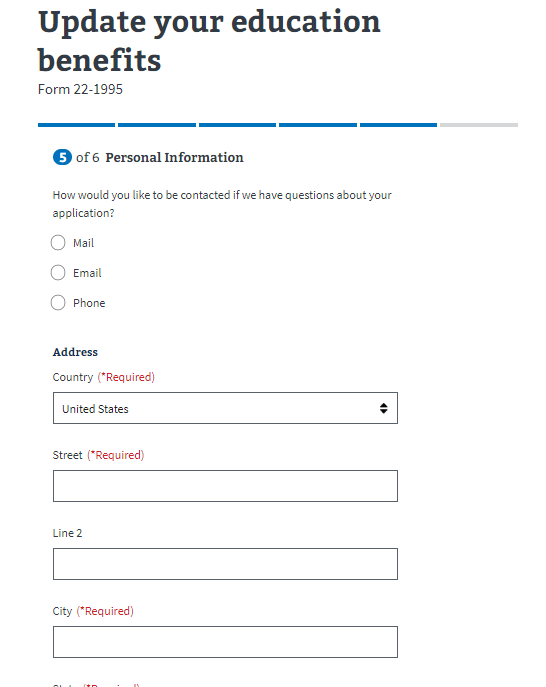 Processing can take up to 30 days to complete and you will receive a certificate of eligibility in the mail.
If you have to need to transfer your benefits from either Chapter 30 or another type of benefit to Chapter 33, please utilize this link to get in contact with a VSO (Veteran Services Officer)
Information on transferring your benefits to a spouse or child:
Updates involving the GI Bill and other benefits you may be interested in:
The VA offers a comparison tool to look at your other benefits to see which one makes the most sense for you:
Are you interested in the VET TEC program?
Filling Out Your VA Form 1990
First, we will discuss the VA Form 1990. There are two methods to applying for your VA Benefits which you are welcome to utilize either one. The first, and most time intensive, is filling out a paper form and mailing it to the VA. That process is cumbersome, so we will gloss over it and instead show you how to electronically file it instead.
Here is the step by step process of filling out your 1990:
Navigate to Education Form 1990 Page
Click on "Sign In to start your Application"

You will be asked to provide sign in credentials through 3 different types of logins. Depending on the information you have available will determine the right option for you.
If you do not remember your VA credentials from your TAP process it is best to utilize the ID.ME login credentials – you can create a new account if you do not have one by clicking on "Create an ID.me account" and utilize your SSC# to create the account

Take note of the documentation that is required to fill out the form:

Social Security Number
Military History
Basic Information about our school
Bank account direct deposit information
Education history

Click on "Start Application"
Fill out the form with the appropriate information – reference the LAC specific information you may need here: Learning Alliance Information
Note: VA Form 1990 claims take up to 30 days to complete
The VA will Review your application and send you a Certificate of Eligibility in the mail if approved – if you were denied, you may not have benefits or you filled out the application wrong
See the below graphical walk through
Filling Out Your VA Form 1995
Navigate to Education Form 1995 Page
Click on "Sign In to start your Application"

You will be asked to provide sign in credentials through 3 different types of logins. Depending on the information you have available will determine the right option for you.
If you do not remember your VA credentials from your TAP process it is best to utilize the ID.ME login credentials – you can create a new account if you do not have one by clicking on "Create an ID.me account" and utilize your SSC# to create the account

Take note of the documentation that is required to fill out the form:

Social Security Number
Military History
Basic Information about our school
Bank account direct deposit information
Education history

Click on "Start Application"
Fill out the form with the appropriate information – reference the LAC specific information you may need here: Learning Alliance Information
Note: VA Form 1995 claims take up to 30 days to complete
The VA will Review your application and send you a Certificate of Eligibility in the mail if approved – if you were denied, you may not have benefits or you filled out the application wrong
See the below graphical walk through