Broadband Fiber Digital Installer Program
In Learning Alliance Corporation's Broadband Fiber Digital Installer Program, students will learn the fundamentals of fiber optic transmission theory from the ground up. Beginning with safety and handling, students will be exposed to all the elements in a typical fiber optic network including the various cable types, connectors, installation methodologies and industry standards.
BFDI Diploma​ Program Structure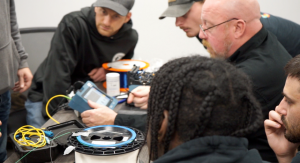 In the BFDI® (Broadband Fiber Digital Installer) program, students will complete a total of 109 hours of course work over a 3-week period.
Hands on training will be conducted at LAC's newly constructed facility based in Tampa Florida that has been constructed to simulate all potential sites that our graduates will run into in the workforce, varying from rooftops to various towers.
LAC's fiber training features a proprietary hands-on component where our students splice, set up enclosures and trays, trench with heavy machinery, pull conduit and fiber to vault, set a pole, activate the fiber, and test the full back-haul system for dB loss.
The prerequisites for entering LAC's Fiber Optic program are a High School Diploma or equivalent.
The BFDI® diploma covers the following topics:
Overview of fiber optic applications & installations communications systems utilizing fiber optics​
FTTx Workshop​
Installation techniques for fiber optic networks at the premises & outside plant fiber optic cable splicing and termination​
Testing fiber optic components & cable plants​
Antenna Types
Field experience installing and testing fiber optic networks include the following: ​
Experience preparing various cable types​.
Experience with fusion splicing and several termination types​
Experience testing with visual inspection, VFL, OLTS, OTDR
In addition to the central certification, BFDI® students will also achieve basic certifications in:
OSHA10 Construction
CPR, First Aid, Blood Borne Pathogens
30' Ladder Handling and Fall Protection
Bucket Truck Certificate
Fall Protection and Rescue
LAC and NATE
Learning Alliance Corporation is sponsoring a 5G Small Cell Deployment Training course with NATE in Tampa, Florida on May 21. This comprehensive course is targeted at existing industry employees/employers and will cover a wide range of 5G small cell deployment related topics. Click the link below to find out any further information.
https://natehome.com/safety-education/susan-harwood-grant-courses/5g-small-cell-deployment-training/

About Learning Alliance Corporation
Learning Alliance Corporation partners with businesses, colleges, and universities to bring US Veterans and civilians stronger training initiatives that equate to solid career growth. By partnering with local employers, Learning Alliance Corporation has created workshops, labs and simulation programs that align the theoretical concepts into real world application learning. This adaptable approach creates learning solutions based on the community specific goals, industry, staff skill level, and corporate culture. Learning Alliance Corporation provides quality instructors, who are highly trained and specialize in the areas they teach. Learn more at www.mylearningalliance.com.
Interested in becoming a partner?
Do you want to discuss grant opportunities with one of our grant specialists? We can answer all of your questions from when grant funding is allocated, the process of obtaining a grant reward and how we reimburse you fund. If you are interested in discussing the IWT/EWT grant, contact us today!