Combating Fake OSHA Certifications
Skilled trade workers are in high demand to keep up with various growing industries throughout the United States. With the benefits that each of these skilled positions come with, this can lead to employees doing whatever it takes to appear qualified to obtain said position, even if it is in an unlawful manner.
OSHA Training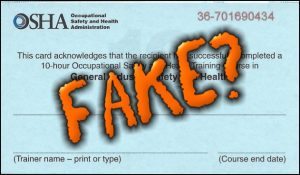 In 1970 Congress passed the Occupational Safety and Health Act of 1970 creating the Occupational Safety and Health Administration (OSHA). They tasked OSHA with ensuring safe and healthful working conditions for working men and women by setting and enforcing standards. To help with this goal, OSHA offers a variety of courses including comprehensive  10-hour and 30-hour training courses. According to Vantage Point Consulting, "Courses typically cost between $60 and $80 for the 10-hour course and $160 to $180 for the 30-hour courses.". While these price points seem reasonable, those living paycheck to paycheck or lacking the required time may find this cost prohibitive and obtain a fake certification.
The Problem of Fake OSHA Certification Arises
As the workplace began to rely on OSHA certifications for proof of skills and training, the issue of fake certifications began to grow. The Daily News reported on a case of a fake 30-hour OSHA certification involving a carpenter had received a faulty card after attending a 2-hour safety class. The individual reported that he received zero training, and also never met the trainer who signed off on the card. This case is no anomaly in this industry, LAC's very Derrick Francis said "I personally have run into this issue with new members of a crew having fake OSHA 10 and 30 certifications. I think the best way to prevent fraud from happening is to do your research and double check the legitimacy of the person and organization administering the training."
In person courses are not the only way workers are getting fake certifications, websites have sprung up that offer people a way to instantly purchase a certification with no training and have it shipped to their door. Many of these sites don't even try to hide what they do, and brazenly say things like "All of our documents are replicated from actual diplomas, degrees and certificates! This includes GED, High School and College/University Degrees!".
When asked to comment on the problem, Benjamin Bowman, Director of Sales and Marketing for Safety LMS said:
"The issue unfortunately never goes away. Weekly we are running into companies that want to save a few dollars and choose to cut corners so they will make their certs in house. Some are much worse than others with the amount of time that has been spent in making them look like the real thing. Unfortunately for these companies we have spent lots of time and money creating new certification verification programs that make it 100% fool proof for GC's and Safety Managers to validate the certifications they come across on site or during on boarding just by scanning a QR code. https://www.youtube.com/watch?v=NfOukeeKIkg "
OSHA Fights Back
OSHA has put great deal of effort into combatting possible fraudulent certifications.  They began by identifying which of their certification were easiest to illegally replicate, and then learned how best  combat their counterfeiting. The cards themselves, provided to workers to prove certification, are often the main source of fraud with the main cards being replicated being OSHA's yellow and orange  cards. OSHA realized that these two specific cards were a weak point and has taken action to remedy this. According to Safety Dynamics LLC,  "OSHA has moved to plastic, color coded cards (and away from the white, paper cards). The new plastic cards also include a QR code that can be scanned to get information which includes the worker's name and details about their training." As these cards must be replaced every 5 years, the dated easily replicated cards will soon be an issue of the past.
Worksite Precautions
Just as OSHA intensifies its fight against fake certification, so must employers take measures to counteract the fraud that these workers are committing? RCI Mag reported that when surveyed, 69% of employers are still using a paper method to check cards even with the availability of new smart technology. The article also reported that less than half (43%) of workers were even checked to see if they were qualified for the position. Clearly, additional education is needed here. As Benjamin Bowman, Director of Sales and Marketing for Safety LMS added, "You have to get ahead of it and be proactive by creating programs like the one mentioned above. Not only do the programs that we create protect our certifications, they help the companies that are running the training through Safety LMS protect their investment that they put into the employees. In that tool, we have given the ability to companies to disable the certifications of employees that are no longer with the company in 1 click. This means that employees need to be retrained by each company that they work for which is a rule set in place by OSHA."
The Need For Vigilance
In this industry, companies will always have to adapt to those that are looking for the easiest possible solution. Being able to see a weakness in the system and take action to not only make sure individuals are qualified but also ensure that they can have a safe work site is crucial. People will always try to come up with the fastest solution and that is why companies like OSHA have to stay one step ahead at all times.
References
-Coatings Industry News. PaintSquare. (n.d.). https://www.paintsquare.com/news/?fuseaction=view&id=17214.
-Consulting, V. P. (2019, September 30). How much does OSHA certification cost? Vantage Point Consulting – Emergency Management Training & Response. https://vantagepointc.com/how-much-does-osha-certification-cost/#:~:text=Online%20courses%20typically%20cost%20between,course%2C%20online%20courses%20do%20not.
-Fake certification cards common on construction sites. Roofing Cladding & Insulation Magazine (RCI). (2015, June 16). https://rcimag.co.uk/news/fake-certification-cards-common-on-construction-site.
-Fake OSHA Certification Cards. Safety Dynamics LLC. (n.d.). https://www.safetydynamicsllc.com/fake-osha-certification-cards.
-How A Fake NEBOSH ICC Certificate Help Make You Rich. Diploma Company. (n.d.). https://www.indiploma.com/goods.php?id=288.
-Kates, B. (2019, January 11). Fake construction safety training cards resurface, raising new concerns. nydailynews.com. https://www.nydailynews.com/new-york/fake-construction-safety-training-cards-resurface-raising-new-concerns-article-1.396597.
-Safety Fabrications. Fake Certification Cards | Step unit | Safety Fabs. (n.d.). http://www.safetyfabrications.co.uk/news/fake-certification-cards-construction-industry.
Interested in becoming a partner?
Do you want to discuss grant opportunities with one of our grant specialists? We can answer all of your questions from when grant funding is allocated, the process of obtaining a grant reward and how we reimburse you fund. If you are interested in discussing the IWT/EWT grant, contact us today!