LAC Partners with Taqtile to Build and Deliver Augmented Reality-based Training Simulation to LAC Students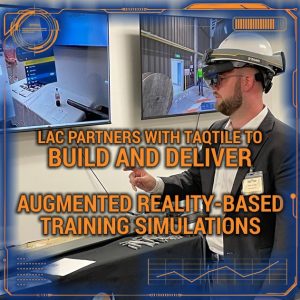 Tampa, Florida — July 21, 2021 —Learning Alliance Corporation (LAC) partners with Taqtile to build and deliver augmented reality-based training simulation to LAC students.
"We are building training and development in the virtual space because it offers a safe environment for students to practice continuous repetition of hard skills," said Fred Arnold, Director of Operations for LAC.
Taqtile's Manifest platform leverages augmented reality (AR) to provide state-of-the-art training and upskilling support to front-line workers and technicians. With Manifest, organizations such as the Learning Alliance Corporation can leverage AR to access the expertise of knowledgeable staff and trainers, providing step-by-step maintenance procedures and repair instructions, empowering technicians to complete their jobs more efficiently and accurately.
"By combining our virtual reality gaming components and Taqtile's Manifest software, we have produced a unique way to train and develop our students," said Fred.
LAC presented the augmented reality gear during a site visit from FCC Commissioner Brendan Carr, industry executives, and workforce development boards.
"Many of the uses and applications of 5G are unknown to us, but virtual and augmented reality will be a large part of its growth," said Brendan.
Learning Alliance plans to integrate virtual and augmented reality solutions into its training in a number of areas including wireless, fiber, and broadband.
"We will continue to provide a flexible learning environment for our students and partner employers," said Cesar Ruiz, CEO of Learning Alliance. "Augmented reality provides a unique way to teach that empowers the user through a hands-free experience," he said.
"Deskless, hands-on workers are the most technologically underserved population in business today. At Taqtile, we aim to empower deskless workers with the tools they need to learn and execute just about any complex task in a hands-free manner," said Taqtile senior director of sales, Joe Clukey. "With Manifest's ability to break down any complex task into easy-to-digest, bite-sized pieces, we're taking students from the classroom to the field more quickly, and enabling them to learn through doing instead of through just watching or reading."
The technology utilizes Microsoft Hololens built on a Trimble hard hat that allows the student to be protected in construction environments, all the while being taught new installation techniques. The compact nature of Halolens provides an unobstructed view the environment around while displaying critical information to the user.
"Learning Alliance Corporation is a leader in their space and Manifest is going to help them more efficiently train the next generation of network technicians," said Taqtile cofounder and CEO, Dirck Schou. "With the intuitive Manifest platform, incoming students will receive the training and instruction necessary to more safely, efficiently, and accurately complete complex tasks in the field."
About Taqtile
Taqtile, winner of the 2020 Microsoft Partner of the Year Award in the Mixed Reality category, builds enterprise software that leverages augmented reality to make Everyone an Expert, capturing the unique knowledge of company experts and sharing that knowledge with frontline workers. By virtually transporting the knowledge of experts when and where it's needed, sometimes under the most urgent circumstances, Taqtile customers enhance operational capabilities and improve performance. The Manifest platform allows company experts to easily document and record tribal knowledge, and distribute it across an entire workforce, enabling less experienced operators to easily follow instructions and complete complex tasks safely and consistently. For more information on Manifest, please visit www.taqtile.com.
About Learning Alliance Corporation
Learning Alliance Corporation partners with businesses, colleges, and universities to bring U.S. Veterans and civilians stronger training initiatives that equate to solid career growth. By partnering with employers nationwide, Learning Alliance Corporation has created workshops, labs and simulation programs that align the theoretical concepts into real world application learning. This adaptable approach creates learning solutions based on the community specific goals, industry, staff skill level, and corporate culture. Learning Alliance Corporation provides quality instructors, who are highly trained and specialize in the areas they teach. Learn more at https://www.mylearningalliance.com.
MEDIA CONTACT
Neil Marr
Learning Alliance Corporation
Tel: 1.813.503.8204
Email: nmarr@mylearningalliance.com
Interested in becoming a partner?
Do you want to discuss grant opportunities with one of our grant specialists? We can answer all of your questions from when grant funding is allocated, the process of obtaining a grant reward and how we reimburse you fund. If you are interested in discussing the IWT/EWT grant, contact us today!