Learning Alliance Fiber Program Partners With VIAVI to Certify New Technicians
For Immediate Release 9/12/22 
Learning Alliance Corporation (LAC) announced VIAVI Solution's testing equipment and certification contribution to the Broadband Fiber Digital Installer (BFDI) program.
"As the industry accelerates the transition to FTTx, DOCSIS 4.0 and 5G, there has never been a greater demand for the technicians who will build these networks. To expand the telecommunication career opportunities for veterans and other disadvantaged groups, VIAVI is proud to share test expertise and equipment to be used for the new Broadband Fiber Digital Installer Program," said Luiz-Cesar Oliveira, Vice President, Americas, VIAVI. "We congratulate the inaugural group of fifteen students and future classes. Welcome to an exciting new career."
LAC's new program helps equip future Fiber Optic Technicians with the skills needed to install multiple types of communication infrastructure specific to a fiber optic architecture. Students will utilize fiber testing equipment specific to Viavi products while they build out fiber enclosures to industry specifications," said Fred Arnold, Executive Director of LAC.
The fiber optics industry is one of the fastest-growing industries in the world, and with the new fiber program, LAC helps individuals get the training they need to be successful in this field. The testing equipment donated by VIAVI will go towards providing students hands-on fiber training and practices, which provides them with the opportunity to gain real-world experience.
"Our first fiber class was a huge success! VIAVI and PLP played a pivotal role in helping us provide the training and equipment necessary to prepare these newly minted fiber technicians with the best experience possible", said Derrick Francis, Director of Training and Academics at LAC.
Upon completion of the program, students will receive a diploma, which includes VIAVI and Preformed Line Products (PLP) certifications.
Learn more about the program here.
Learn more about VIAVI Certifications here.
About Learning Alliance
Learning Alliance Corporation partners with businesses, colleges, and universities to bring U.S. Veterans and civilians stronger training initiatives that equate to solid career growth. By partnering with employers nationwide, Learning Alliance Corporation has created workshops, labs and simulation programs that align the theoretical concepts with real-world application learning. This adaptable approach creates learning solutions based on the community-specific goals, industry, staff skill level, and corporate culture. Learning Alliance Corporation provides quality instructors who are highly trained and specialize in the areas they teach. Learn more at https://www.mylearningalliance.com or contact Lymaris Pabellon at lpabellon@mylearningalliance.com
About VIAVI
VIAVI Solutions (NASDAQ: VIAV) is a global provider of network test, monitoring and assurance solutions for communications service providers, enterprises, network equipment manufacturers, original equipment manufacturers, government and avionics. We help these customers harness the power of instruments, automation, intelligence and virtualization. VIAVI is also a leader in light management solutions for the anti-counterfeiting, consumer electronics, industrial, government and automotive markets. Learn more about VIAVI at www.viavisolutions.com. Follow us on VIAVI Perspectives, LinkedIn, Twitter, YouTube and Facebook.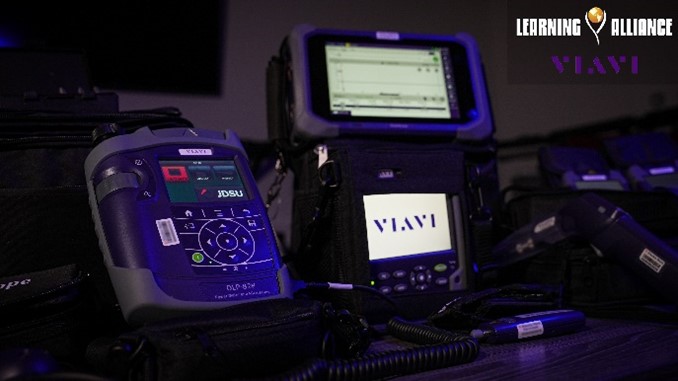 Interested in becoming a partner?
Are you interested in becoming a partner? Being a LAC partner allows you to connect within our ecosystem of services that include workforce development, grant opportunities, continued education, and apprenticeships. Let's connect and see how we can support your mission and vision!