The United States finds itself in a unique situation with the current skilled labor shortage. Let us take a step back and look to the 1940's to 1990's where tremendous growth brought huge expansions in trade skilled professions. Electricians, plumbers and carpenters alike were true examples of the blue collar work hard crowd. By their work ethic, our infrastructure expanded. Through their labor, our country prospered. Now, the future looks bleak for our skilled labor force.
Home Advisor conducted research on the skilled job market. They looked at the average age of the workforce and determined these statistics:
68% of the workforce is 35+
43% of those are 45+
25% of those are 35-44
Only 22% of the workforce are ages 25-34
Only 10% of the workforce are ages 16-24 year
Source: Home Advisor – Skilled Trades Study
With 43% of the workforce ages 45+, the industry knows a large percentage of the skilled labor force will soon be hitting retirement. Companies know this, and they are having difficulty filling their positions with the next generation workforce that could overcome their skill gap.
This trend can be felt across the entire skilled workforce and includes the Wireless industry. As a non-degree college training Tower Technician graduates, we see a major need to up-skill these workers as fast as possible to meet the labor demands. FCC Commissioner Brendan Carr spoke at the Wireless Infrastructure Awards on October 1st, 2019 stating, "With all of these new 5G builds underway, industry could now fill 20,000 job openings for tower techs.  These are good-paying jobs that could bring thousands of families into the middle class."
His comment provides context to the needs in the Wireless Industry and proposes an eye-opening revelation – a skilled worker has high earning potential.
To combat the inevitable, companies must connect with new generation employees on a different level. To sell your tower positions you must build diversification in the workforce, build structured training programs, remodel company culture, battle educational perception and build the partnerships that support these initiatives.
Diversification in the Workforce
Diversification offers an opportunity to strengthen your hiring pipelines with as many different faces, personalities and people as possible. This includes women, minorities, veterans, under-employed, un-employed and legal immigrants. To build better hiring pipelines for multiple demographics you can create focus groups that have a specific demographic focal point, and include that demographic in the focus group to learn how to market to them. Work motivation differs by group so dig in, figure out the message and hire away.
Women in the Workforce
Women are an untapped demographic for the Tower industry. Let's look at some statistics:
According to Career School Now only 8.9% of the skilled trade workforce makes up women
Our internal recruitment initiatives for Tower Technicians are similar: only 9% of applications are women while only 2% of our Tower/Fiber programs include women
As a college, we abide by strict equal opportunity guidelines. If you want to learn the job, we are here for you – no matter what. That mindset does not erase the past, however. It is difficult to get women into these types of jobs, but it might be due to poor marketing initiatives and a lack of helpful partnerships. If you are interested in working on women specific hiring pipelines, then build a culture of inclusion. For instance, many companies in the Wireless industry partner or build their own women in the workforce empowerment groups. For instance, you have:
These groups allow women to have a stronger voice within the industry and help bridge the gap between them and in-demand jobs.
Other Hiring Pipelines
As a Veteran friendly organization, we discuss Veteran hiring pipelines quite often. You can see some statistics on these initiatives and how to build a program focused on this group through Small Biz Trneds here: Veteran Friendly Hiring Pipeline.
There are many organizations that focus on un-employed, minorities, under-employed and legal immigrant groups. In the state of Florida, we have a non-profit organization called Career Source that helps connect businesses to grant funding for different types of recruitment initiatives for those demographics. Connect with your local, state and federal non-profits in your area to take advantage of their services so you can delve into increasing your diversification!
Apprenticeship and Structured Training Programs
Today's generation see technology daily. They learn fast, they cultivate new skills quickly and they have a motivation that has yet to be realized. One thing the construction industry lacks is ways to empower their ability to learn through these new technologies. The next generation work force wants a clear understanding of their career path, consistent education to learn new skills and a job that motivates them every morning. By building apprenticeship and structured training programs into your company, you speak the next generations language.
Why is it important to have this structure?
Unemployment is low, sitting at 3.5% per the Bureau of Labor Statistics – this means you fight even harder for each employee
Because unemployment is low, there is a high demand for employees in every industry. You need to stand out, and a great structured training environment shows that you have your company together
A new employee knows what to expect – honesty is key here. By giving them a direct pathway to higher earnings, they know they will never stagnate unless it is by their own willingness not to proceed
Incorporating blended learning (new technology and old school instruction) taps into the very fabric of a smart phone in everyone's pocket. Do not overlook this! Electronic and micro learning is one of the best ways to capture and evolve your next gen workforce
Increase retention by giving back to your new employees – education is valuable so show your newest employees that you value their skill and they will be loyal to your company
We discuss setting up successful apprenticeships here: Apprenticeships and How to Be Successful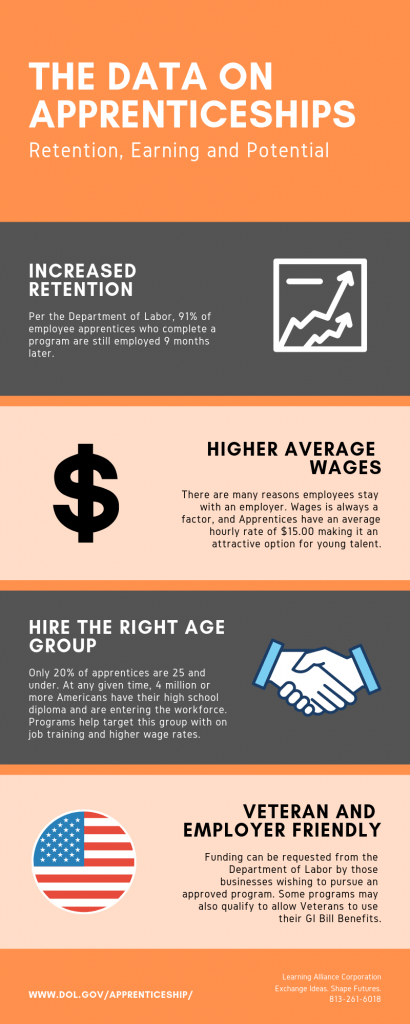 A quick infograph that details some data on Apprenticeship Programs
Remodeling the Company Culture
The construction industry must let go of the "put your head down and work" mentality. Understanding the next gen workforce means understanding that their motivation is not "just to work". They want to benefit their communities, states and country.
The Tower industry is a perfect example of an industry that impacts the lives of every family. It is the work of tower technicians that we can talk to each other. It is the hands-on effort of men and women that we can upgrade the infrastructure to 5G.
The communications front line means being on the edge of new technology. It means evolving with an industry that will keep you learning and progressing. If you are not selling this job as a career, as a change in their life that will benefit them both in motivation and in social stature, you are missing the mark to these young workers.
To revamp the company culture, you need to show your workers that you appreciate the work they do:
Training programs! We mentioned this above, but train, train and keep training. Do not stagnate your workers or you will lose them. Give them meaningful career progression
Create a mentor-ship environment. The Wireless industry is all about safety, brotherhood and a job well done. Make sure you are showing your future employees that your culture revolves around their success and that they will always have a senior member their to lend them a helping hand
Leadership – climb a tower! A lot of times, construction company leadership avoid the employees who are on the ground doing the work. Do not fall into this category. If your new employees do not know your name as the CEO, they do not care enough about your company to stay with it. Brendan Carr challenged every leader in the industry by making a 2,000 ft. Tower climb. Are you willing to take that challenge?
There are many other means to revamp your company culture, but the three above will be a great steppingstone into attracting the younger generation to your Tower careers.
Battling the Educational Perception
We face years of marketing for college degrees and programs. "Go to college to get a good job". It is a quote heard often, but times are changing. College jobs are becoming saturated while trade skilled jobs are in high demand. As a Tower company, you need to break through the noise and market your brand correctly.
Social Media – use it. Show the next generation what your company is about, show them the careers, show them the training. Put yourself out there. A company that is dark on the web veers potential employees away. Remember, everyone nowadays looks online for reviews – it is the market, so you must join in
Content – produce content that highlights your value to the industry, to your employees and to your state/country. The next gen workforce wants to work in a job that has meaning, so you need to produce the content that shows them there is meaning in being a Tower Tech
Get in front of the right people – work hard to partner with high schools, colleges and organizations in the Tower space that aim to alleviate the skills gap
Marketing is a difficult aspect of this. It requires a budget and employees who have a passion to make it work. Do not make the mistake in thinking that it is a wasteful effort!
Build on Partnerships to Build up the Skilled Workforce
You can partner with us to help build a class schedule around your hiring needs so we can actively find you new Tower Technician Level 1 graduates that are a fit for your company. Many different organizations exist to alleviate the skilled worker shortage. Another in the Wireless space is the National Association of Tower Erectors (NATE). Partner with as many experts in the industry as possible, and you will be surprised at what you can accomplish!
In Conclusion
Selling your tower careers starts off with caring about your brand image, your training initiatives, your marketing strategy and ultimately, truly caring for the technicians who endanger their lives on a daily basis. By highlighting their hard work and sacrifice, you show the next generation workforce why the job is important, and why it is a career.