Telecom Industry Difficulties Grow in 5G Deployment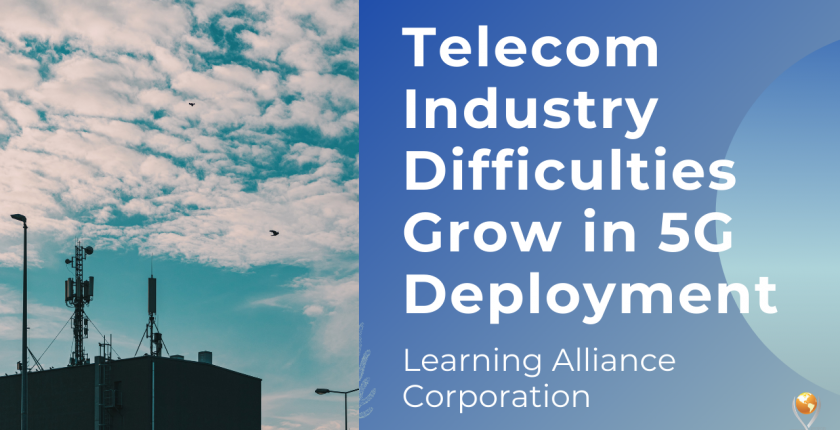 It is generally agreed that 5G is the future of the telecommunications industry, however, as the telecom industry continues its 5G rollout, the companies and individuals involved are learning the hard way that this update comes with a price.
Today, 4G is the main service used by the telecommunication industry for most voice and data services. This means there are currently billions of dollars of soon-to-be obsolete equipment currently deployed nationwide. Replacing and/or upgrading this infrastructure is going to be one of the major roadblocks for 5G.  BBCMag estimates that it  will cost $50,000 per tower for the equipment alone. In situations where a brand-new tower is needed to be constructed, estimated costs skyrocket to over $200,000 per tower!
For all the benefits that 5G offers, it cannot travel through walls or rooftops efficiently and 5G signals get significantly weaker over distance as stated by Commercial Integrator. That will mean more 5G towers will have to be constructed even if many existing towers are upgraded. Good news is that smaller cell towers, on places like rooftops or other structures, are a strong option for 5G deployment and this could cut down on some of the costs. Unfortunately, rural areas that lack tall buildings and structures or that simply do not have enough existing towers will likely have a much harder time adapting.
Additionally, new technology will require new education. This of course means new training will be needed for those that work directly on the physical infrastructure and those tasked to maintain and administer the networks. These educational requirements will work to add to the ever-increasing bill that 5G will bring to the table.
Another major concern for 5G is the public's perception in the potential health risks. Many people believe that the radio frequency waves emitted by 5G can cause cancer, but according to the American Cancer Society, there is no actual correlation between radio frequency waves from 5G and cancer or any other health risk. The US Federal Communications Commission (FCC) is on the record saying:
"Radiofrequency emissions from antennas used for cellular and PCS personal communications service transmissions result in exposure levels on the ground that are typically thousands of times below safety limits."
So even as the scientific evidence asserting the safety of 5G expands, the telecom industry must work to educate its customers on the safety of 5G utilization. Care must be taken to combat the misinformation asserting that 5G is dangerous.
Finally, new technology means new security risks. As people come to realize the benefits of an increasingly connected world, users accessing their personal information on public networks are at a greater risk of having that data intercepted by a malicious third party. This danger can be fought by infrastructural and software advanced security, but people storing more and more of their information in the cloud must also be educated on the best practices required to do so safely and securely. As an industry, telecom companies must work diligently to both secure their networks and to educate their customers on how they can personally help to lower their risks of a data breach.
Technology is ever evolving, and the wireless communication industry is no exception. Change is often expensive, but with that expense can come incredible benefits.  As such, the telecom industry must be ever forward-looking and remain two steps ahead in determining future difficulties and trying to solve them as quickly and as efficiently as possible. To keep with the times, the industry must be willing to adapt to new technologies and their social implications to allow it to run like clockwork. 5G is something that faces many challenges, but like any other innovations, with time will come vast improvements, which should demonstrate that the immense effort required for its deployment was all worth the work.
References:
5G is Not the Answer For Rural Broadband. (2017, April). Bbcmag.Com. https://www.bbcmag.com/rural-broadband/5g-is-not-the-answer-for-rural-broadband#:%7E:text=A%20small%20tower%20and%205G,work%20during%20a%20power%20outage.
Cell Phone Towers. (2020, June 1). Cancer.Org. https://www.cancer.org/cancer/cancer-causes/radiation-exposure/cellular-phone-towers.html
Comeau, Z. (2019, November 1). 5G Needs to Break Through Walls… Literally. Commercial Integrator. https://www.commercialintegrator.com/av/install-5g-networks-walls/#:%7E:text=4G%20wavelengths%20have%20a%20range,coverage%20and%20slower%20download%20speeds.
RF Safety FAQ. (2020, October 14). Federal Communications Commission. https://www.fcc.gov/engineering-technology/electromagnetic-compatibility-division/radio-frequency-safety/faq/rf-safety#Q24