A Tower Technician specializes in installation, maintenance and repair of electronic equipment on a cell site tower. Tower Technicians are the heart of our wireless infrastructure. Whenever your phone signal is weak, there may already be a Tower Tech at the top of a cell tower performing maintenance and repair to improve that connectivity. These Technicians improve the performance of television, radio and wireless communication services. Tower Techs work primarily on telecommunication towers.
Historical Perspective View on Tower Technician
In 1973, Motorola invented the first cell phone. The first tower for cell phones was not built until 1977 by AT&T. Thereafter, cell towers were deployed in Chicago service area in the 80's – the cellular system going online and accessing the internet came a decade later.
Tower Techs helped build the first Cellular towers to transmit data and information through an affordable manner for businesses and residents. Wireless Tower Technician jobs continue to play a dynamic role in society.
Tower Technician Role Description
The title Cell Tower Climber is often used interchangeably with a Tower Technician. While both roles work with cell towers to provide wireless communication services, a climber may assist in setting support infrastructure to build towers from the ground up. Climbers also conduct routine maintenance while also installing more delicate equipment (antennas, lighting) at the top of the towers which requires additional education, experience and training.
Role Classification of a Tower Technician 
The job role classification of Tower Technician can be divided into six categories based on training and experience.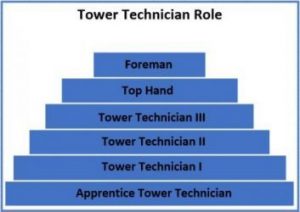 Apprentice Tower Technician have completed their industry certification. They are on-the-job training and work under the supervision of an experienced professional for at least a year.
A Tower Technician at Level I is rated competent by employer and can climb self-sufficiently. They also are proficient in antenna and other installation types.
Level II Tower Technician awarded upon two years of performing maintenance and installation independently at various cell sites. They also start to specialize in different aspects of cell site construction.
Tower Technician at Level III has at least three years of experiences and demonstrated high-level of competence in the many areas of cell site construction. They are first picks for Top Hand and Foreman positions and are capable of mentoring Apprentices as the competent person on a team
Top Hand Tower Technician assist the foreman. They may be the competent rigger on the team that can plan out simple rigging plans for low level rigging requirements
Foreman is the highest tier on a team. They tend to have the most experience in a number of areas for cell site construction. Foremen are often PIM Master Certified for line sweeping, loss and other types of antenna/line troubleshooting. Foreman are also a competent rigger who has the authority to produce advanced rigging plans that require the lifting of 500 lbs or more. Foreman may also communicate with project managers and engineers consistently depending on the scope of work. They are in charge of small to large crews.
The average salary of Tower Technicians depends on your role, training, experience and employer. Industry growth is increasing every year – especially  entry level tower technicians and foreman to assist in 5G role out and  outdoor small cells towers  
construction.
General Duties and Job Tasks Tower Technician Perform
At the end of the day, job duties are what really define what it truly means to be a Tower Technician. Take climbing up to 400+ ft high, carrying equipment to repair and install daily, for example.
As Tower Technicians perform a large-scale roll out of 5G installation, they follow orders from the top of the tower while adhering to specific rules that pertain to installing components, safety equipment and mechanical repair.
The accentuated duties and general description of Tower Technician includes:
Climb towers to access components, using safety equipment, such as full-body harnesses.
Complete reports related to project status, progress, or other work details, using computer software.
Perform maintenance or repair work on existing tower equipment, using hand or power tools.
Lift equipment into position, using cranes and rigging tools or equipment, such as gin poles.
Run appropriate power, ground, or coaxial cables
The Telecommunications industry is veteran friendly. Veterans makes up the majority of our Apprentice Tower Technician Program and enjoys the rewards of their hard work with job security, paid travel, full benefit, and professional growth with their employer(s). The Learning Alliance education and training program has the best partnership Employers to start your new career.